2016 Regional Conservation Progress Report Results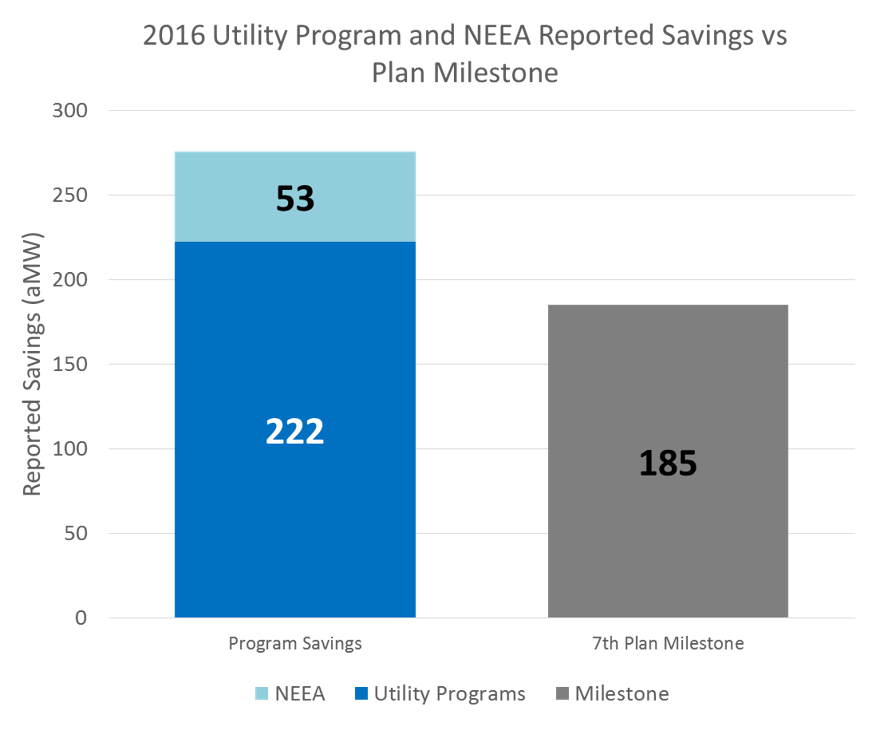 In 2016 the region continued its robust history of energy efficiency achievement, saving 275 aMW across all sectors of the economy through utility programs, and the work of the Northwest Energy Efficiency Alliance (NEEA). This past year's savings well surpassed the annual milestone for 2016 laid out in the 7th Power Plan of 185 aMW. The reporting of energy savings in 2016 was the first glance the region has had of progress towards the current Power Plan's goals. 
Jennifer Light, RTF Chair/Manager, presented the results of this year's Regional Conservation Progress (RCP) Report to the Northwest Power and Conservation Council at their October 2017 meeting in Columbia Falls, Montana. Materials from that presentation are available here. 
Of the 275 aMW of savings achieved by the region, roughly 44% came from the residential sector. 33% of savings were yielded by work in the commercial sector, and 20% came from industrial projects. Of the savings achieved in the residential and commercial sectors, 65% was from improved efficiency in lighting. These savings were driven largely by the growing proliferation of LED lighting in both residential and commercial buildings. 
The RTF is charged with conducting this annual survey on behalf of the Council to assess progress towards Power Plan conservation goals. Each summer the RTF seeks these data from the region's utilities, the Bonneville Power Administration, Energy Trust of Oregon, and NEEA, with a goal of analyzing and publishing results in the fall. More information on the 2016 Regional Conservation Progress report is available here.